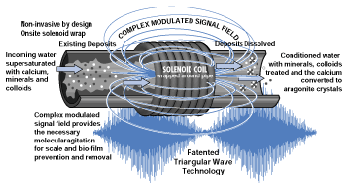 Using modern integrated circuitry and signal processing techniques, the patented TWT Deposit Control technology works by producing a complex frequency-modulated waveform. This creates a de-ionizing effect, induced by physical means, which increases the solubility of the minerals and colloids in the liquid and changes the shape, size, and texture of the calcium carbonate crystals.
By this reaction, the minerals, colloids, and crystals lose their adhesive properties and remain in suspension in the liquid. Pre-existing scale is taken back into solution and removed in the same way. The effects are immediate and are long-lasting downstream.
Simply Said ... In effect a clean corrosion-free delivery system is restored and maintained in an environmentally safe and chemical-free manner. The result is clean pipes and tubing with no biofilm and reduced bacterial contamination.